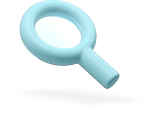 Grammar Checker
Grammar Checking Tool: Your Error-Free Content Within Reach
There is nothing more frustrating than grammar mistakes in your essays. Even if your ideas are brilliant, errors can spoil your grades significantly. To avoid situations like that, you should perform a profound grammar check before submitting your papers to your professor. However, it is not that easy to complete editing on your own. Some mistakes can sneak into your documents without being noticed. The others require advanced knowledge of English to be identified. Grammar is not a piece of cake, even for native speakers!
The trickiest part here is that you might be unaware that your paper includes grammar errors. We have created this accurate grammar checker to make your proofreading smooth and efficient. With its help you will:
Find all the mistakes in your paper
Get the suggestions on how to fix current errors
Get the explanation of your mistakes to understand them better
Improve your writing and language skills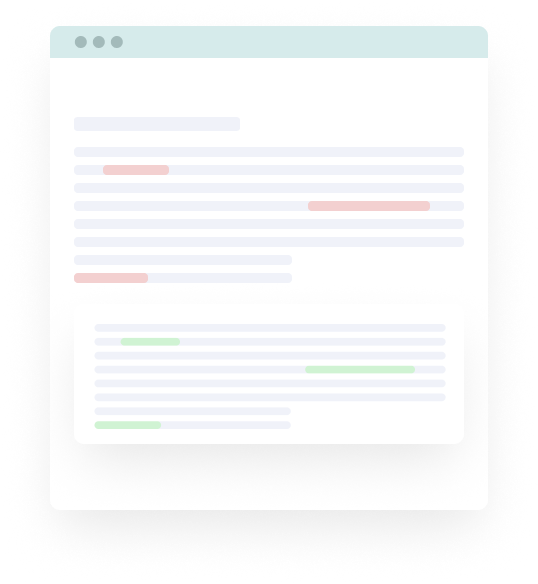 French, German, or Spanish Grammar Checker: All Languages Included
Our main goal while creating this tool was to help students all over the world. That's why we made the grammar checker multi-language. This means that with the help of advanced algorithms and data structures checker supports a wide range of languages. Arabic, French, German, Italian, Spanish – that's not a full list of languages you can use while working with the instrument.
You can choose the language very easily. The corresponding field is situated in the upper-left corner above the text field. All you have to do is to click on it and pick the language you need!
How to Use Our Grammar Checker
You can do your grammar check online in several simple steps. First of all, you need to insert the text in the corresponding field and click on the 'Check Text' button. By the way, it doesn't have to be an English text, as mentioned above, there is a list of languages to choose from.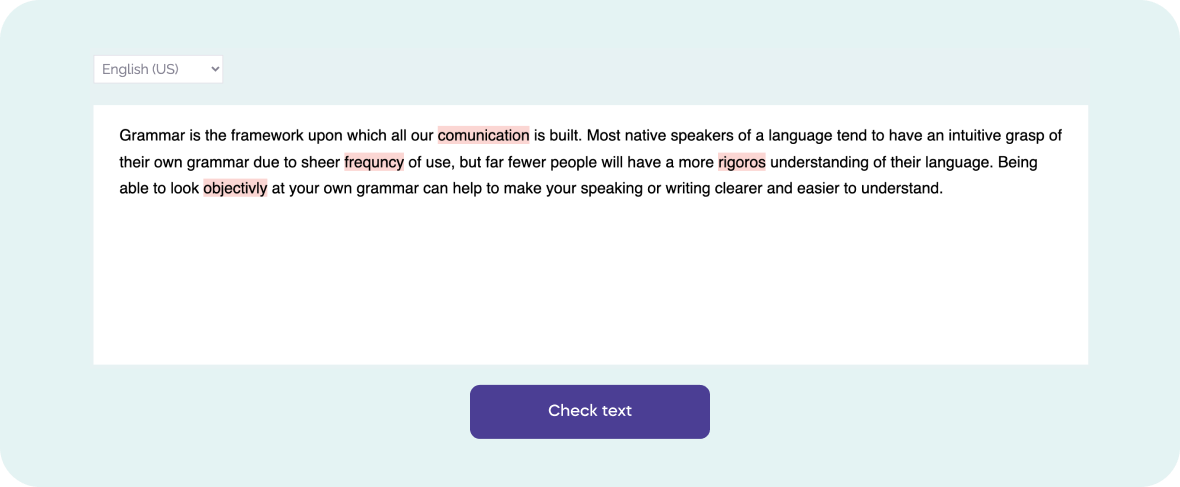 The next step is to correct mistakes, if any. In case your text is error-free, you won't see any changes in it and the tool won't make any amendments. If otherwise, the grammar checker will detect and emphasize all the errors and suggest the right option. All you have to do is to click on it and it's done! From now on, you won't have to ask someone "check my grammar, please" as you have a personal helper.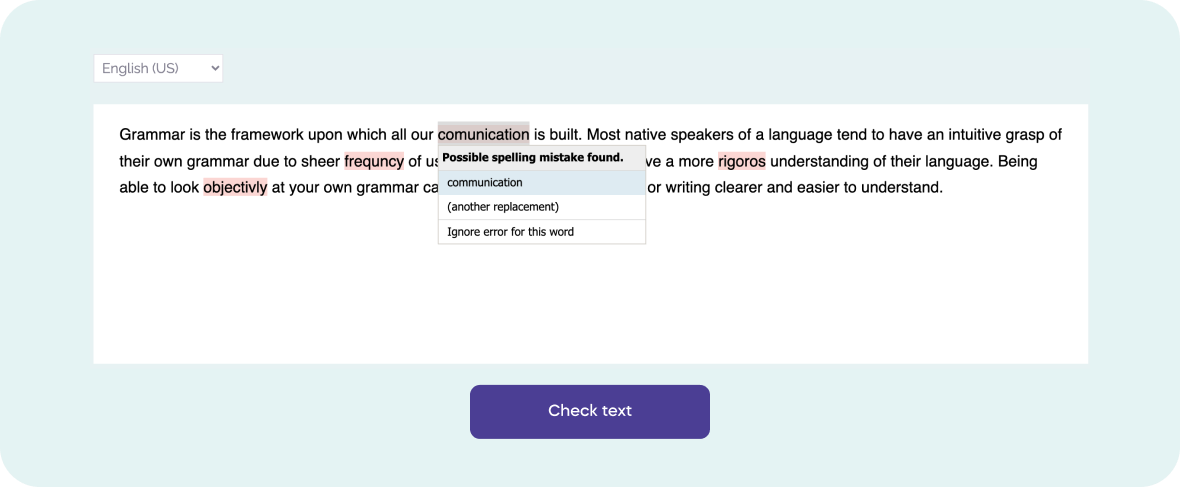 This checker has a rich database of grammar rules, so you can rest assured that even the trickiest and rarest mistakes will be found and fixed. We did our best to create a genuinely advanced app that can compete with a human proofreader. Now you know how to make an accurate grammar check free and online. Use it right now and make your papers flawless!
This tool is developed and provided by languagetool.org