Top 6 AI Essay Generators for College Students
Using an AI writing tool is one of the easiest ways to get fast essay help or improve your writing skills online. However, the problem is that there are a lot of choices available, and each one has its pros and cons. So how do you choose the one that meets your needs the best?
We will talk about the top 6 AI essay writers in this review so you can write better essays faster. We will also provide a quick overview of each tool. Let's go into more detail about each tool now.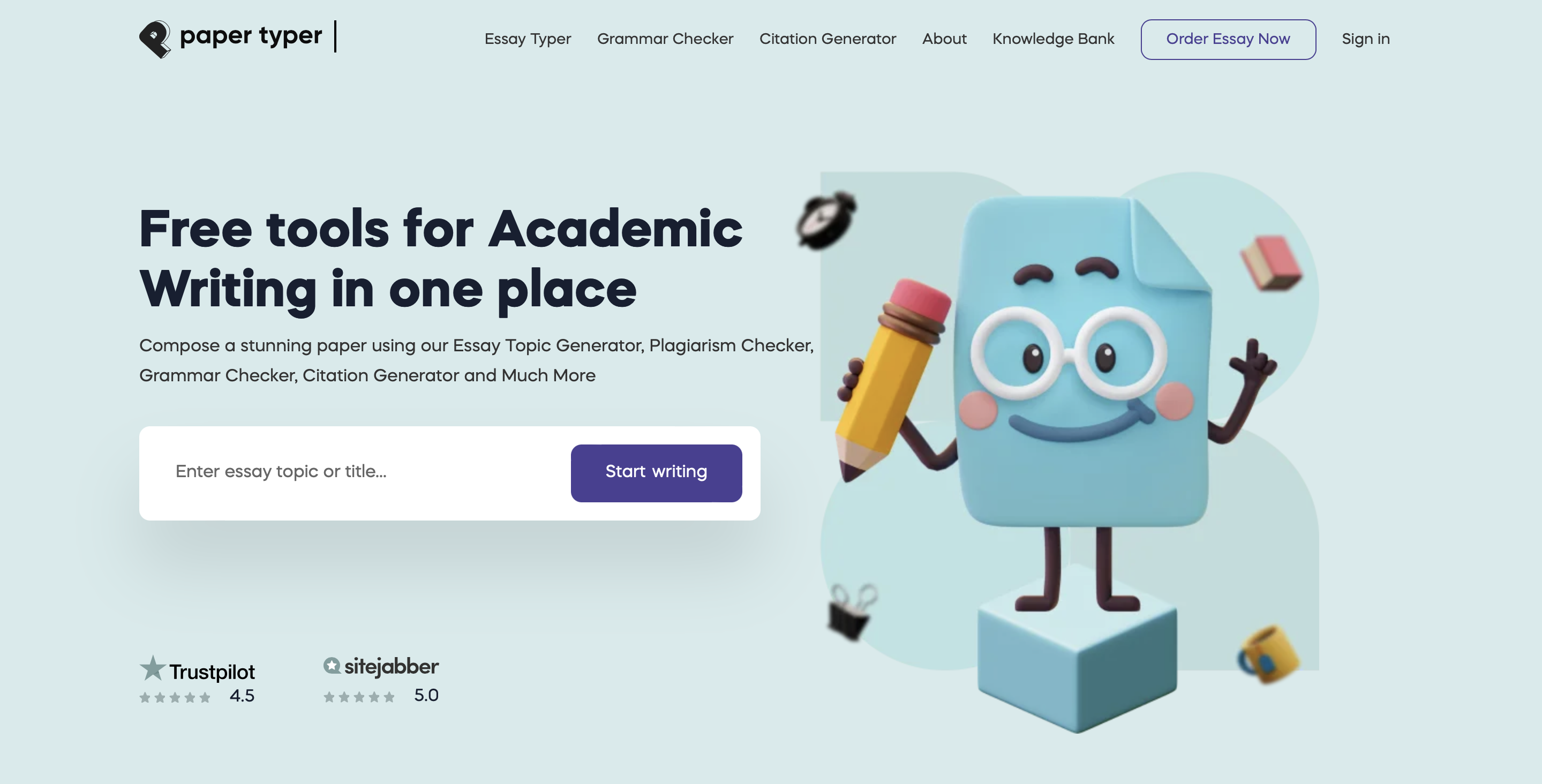 In a matter of seconds, this essay helper platform can help you create and edit great material for your essay. This essay writer service is unbeatable in terms of being user-friendly and easy to navigate. All you have to do is visit the website to easily access all the tools (Essay Typer, Grammar Checker, Plagiarism Checker and Citation Generator) for free.
PaperTyper is the best essay writing platform where you can get the whole sample in seconds. All you have to do is type in the topic of your essay or some keywords for Essay Typer.
In addition, you can check your essay for quality using just Grammar Checker. All grammatical, stylistic, and punctuation will be detected by the tool and corrected. Also, it quickly and accurately generates bibliography entries and in-text citations with the help of Citation Generator. Many college students use these tools in studying since it is completely free.
But if you want to use an AI-powered tool, you only have to create an account on the platform. PaperTyper AI will quickly generate material according to the given task. So you can request a 100-word answer to a question or even a 1500-word essay on a challenging topic. This AI tool will even work on complex technical subjects that even not all freelance writers know. This tool will make sure your essays are high quality, original, relevant, and on point.
Each essay is generated from scratch in the same way as a human would! Most importantly, the essays and other content produced by this AI writer are original and free of grammatical and punctuation mistakes.
Advantages✔️
Disadvantages❌
Quickly generates original content.
Unlimited free access to main tools.
AI tool works with complex topics of any subject.
You need to create an account to use the updated version.
2. Rytr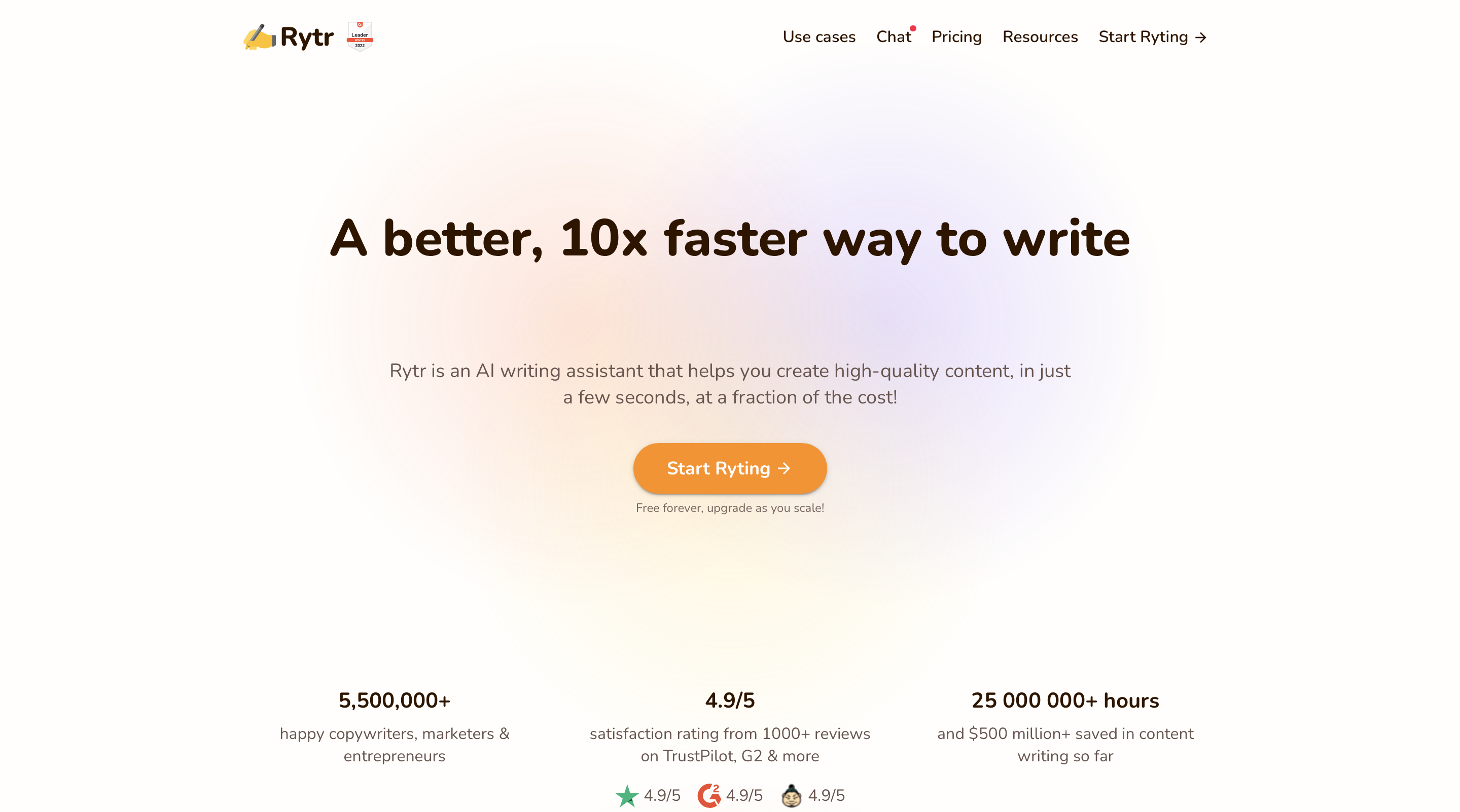 Rytr is another AI service that makes it easier than ever for you to write content faster and more accurately. The tool will scan your writing and provide tips on better use of vocabulary, grammar, or overall readability. It also finds popular keywords to optimize your texts.
It is known for producing short-form content. Users can also ask the tool to write anything they like. You can generate different types of content, including homework assignments, blog posts, social networking postings, emails, advertising, and more.
Rytr can act as an editor after you finish writing your task and want to improve its readability. The built-in plagiarism detector is another good feature for essay writers.
It also supports a range of writing styles and languages to raise the text's quality. You don't need to install any software to use this AI tool; just create an account and start generating interesting articles using its smart AI features.
It provides good value for the money and generates acceptable content. However, you shouldn't use this tool to replace a real writer completely; the content it produces could use some improvement.
With Rytr, you can generate certain number of characters every month for free. You can use this to test this essay writing tool without spending money. But if you want to try Pro plan, be ready to pay for it from $9 and more per month.
Advantages✔️
Disadvantages❌
Good for spelling and grammar checks.
Helps you choose better keywords.
If you want to use it for many different purposes, it can be pricey.
The completed text still needs revising and editing.
A monthly word limit applies to the free version.
3. Jasper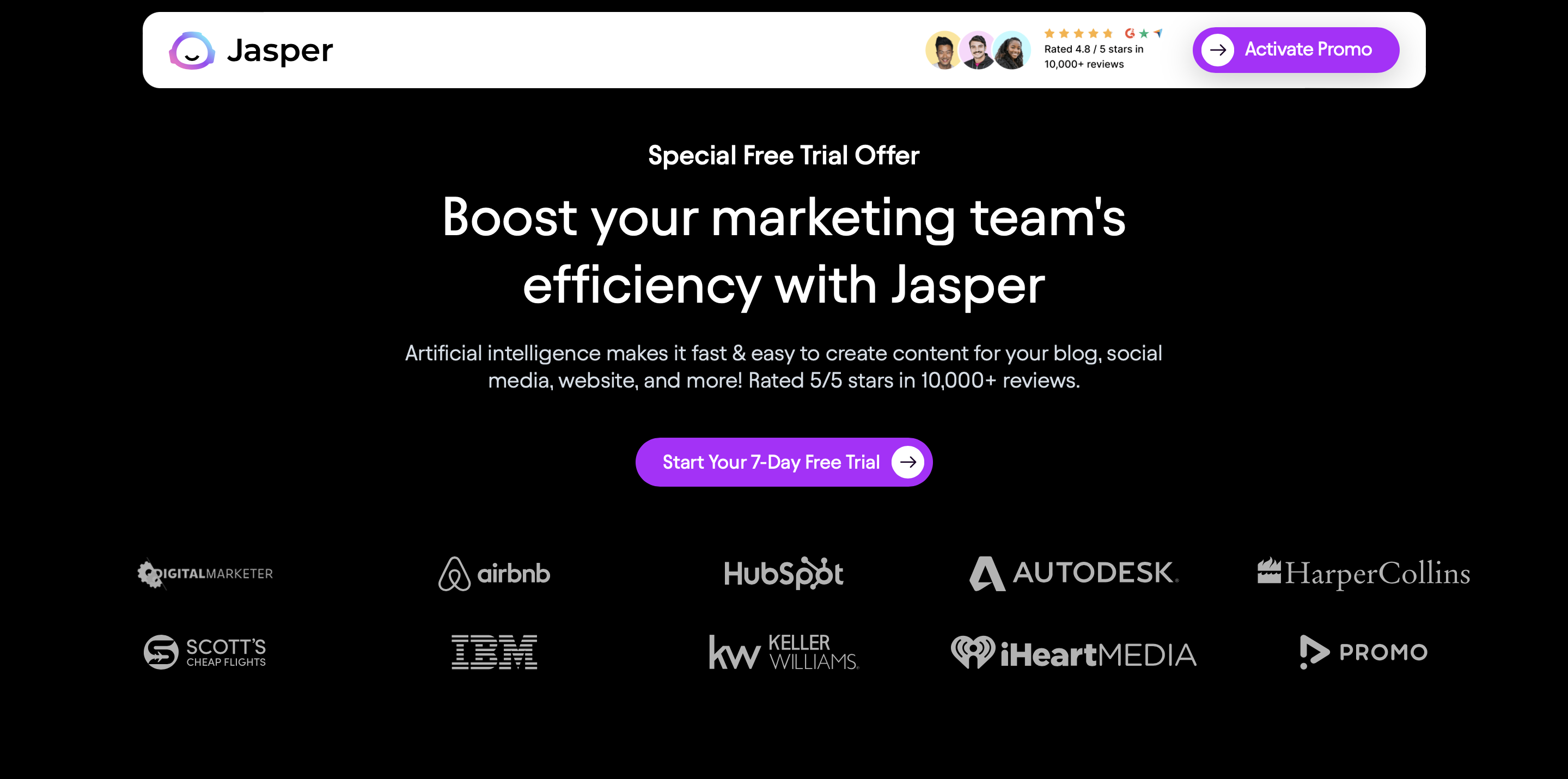 Jasper is a user-friendly AI writer tool that can generate simple essays, blog posts, and marketing copy. You can provide Jasper title, description, keywords, and voice commands to create content for you. It helps you come up with ideas, edit text, and publish good content.
Natural language processing (NLP) technology helps this tool analyze the context of your text and offer better options. Also, it can give you information about popular topics and keywords, which will help you create content that will interest your target audience.
This tool also has an integrated plagiarism detector that will help you quickly check the text for plagiarism.
It has different writing templates for various uses. They are targeted toward writers, marketing experts, teachers, businesses, and so on. Jasper AI can bring benefits for many in some way. Although it is flexible and good at writing simple essays, it isn't the best at everything.
The tool Jasper AI is well-liked by many different types of writers worldwide. You have probably seen Jasper's ads on social media and throughout the internet. You would think it is the best tool for anyone, but the price may be for you one of the biggest drawbacks. You start off with 10,000 free words from this essay writer tool.
The next step is to select a subscription plan. The cheapest Jasper plan is $29 per month, Boss Mode costs $59 per month, and two months' worth of savings are included in the annual plan. Jasper also offers a risk-free 5-day free trial with a full refund guarantee.
Advantages✔️
Disadvantages❌
User-friendly interface.
Works well with other writing tools like Grammarly.
Can be expensive (starting from $29 per month).
It can have trouble with some complex topics.
It sometimes provides different results.
4. Yaara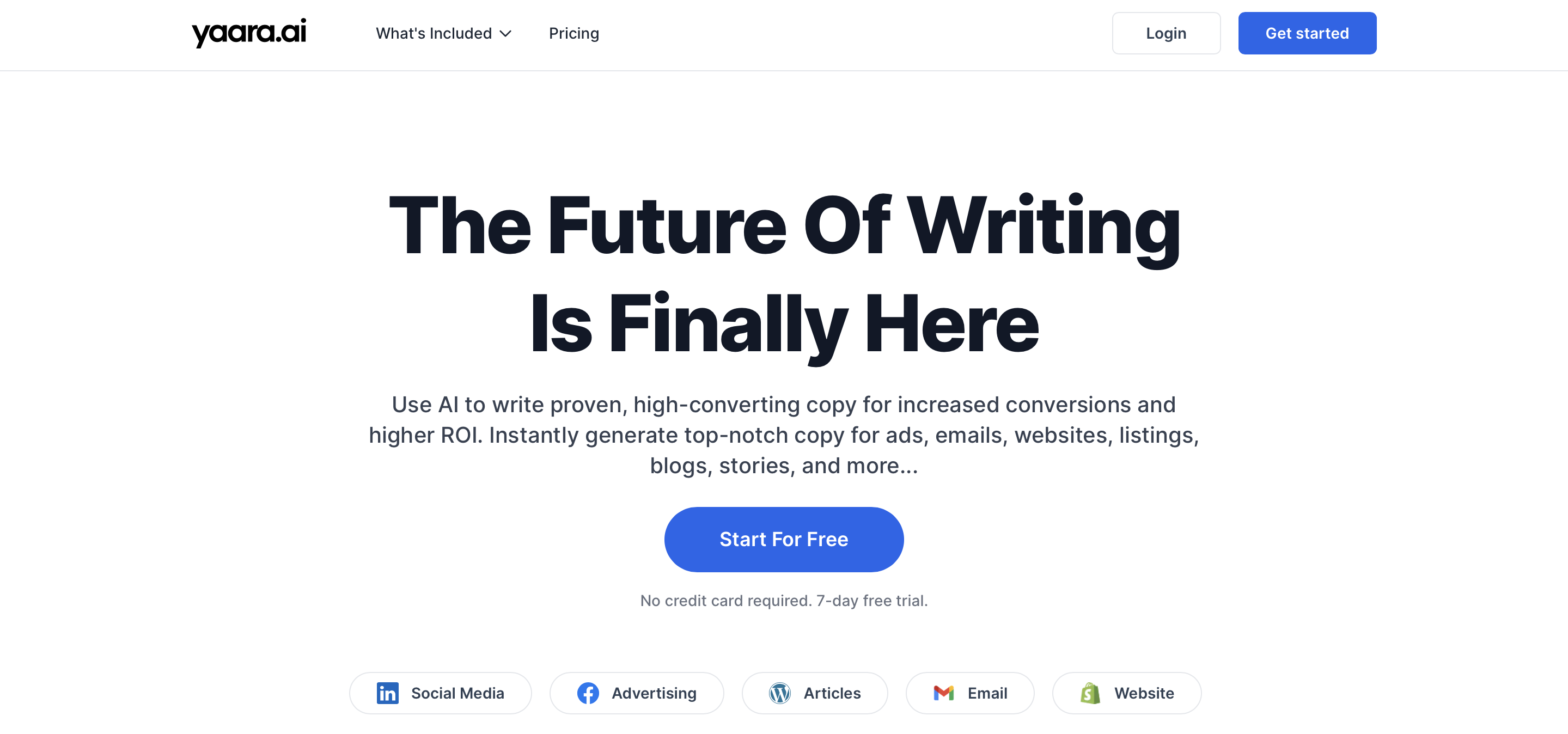 This is another good tool for college students who want to write essays. This writing tool was designed for a range of writing tasks, including blog posts, articles, product descriptions, posts on social media, and more.
It is powered by artificial intelligence and can help you with essay writing. Using this tool for this purpose can help you be more productive and efficient. This tool is kind of like Google Documents but with the power of AI.
Yaara also uses NLP technology to help you write essays. The tool can analyze how people communicate through writing and can use that information to improve your writing.
You can ask it to do many things, including adding transitional phrases, rearranging your sentences, or reorganizing your paragraphs to improve the flow of your writing. A paraphrasing tool provided by this platform can boost the originality and flow of your writing.
Yaara tools will help you search through many databases and get the information you want. But even after several reads, you could still overlook some typos or grammatical mistakes. Yet, thanks to this technology, you can detect mistakes and improve your work because you will get feedback on your grammar, spelling, and punctuation.
Yaara offers both monthly and yearly payment choices for its pricing plans. Expect to spend from $15 to $82 per month when using this tool. You can also contact them for a custom plan and price to meet your needs.
Advantages✔️
Disadvantages❌
Easy to use interface and navigation.
Affordable pricing plans.
Few formatting choices.
Limited search and organization options.
5. Article Forge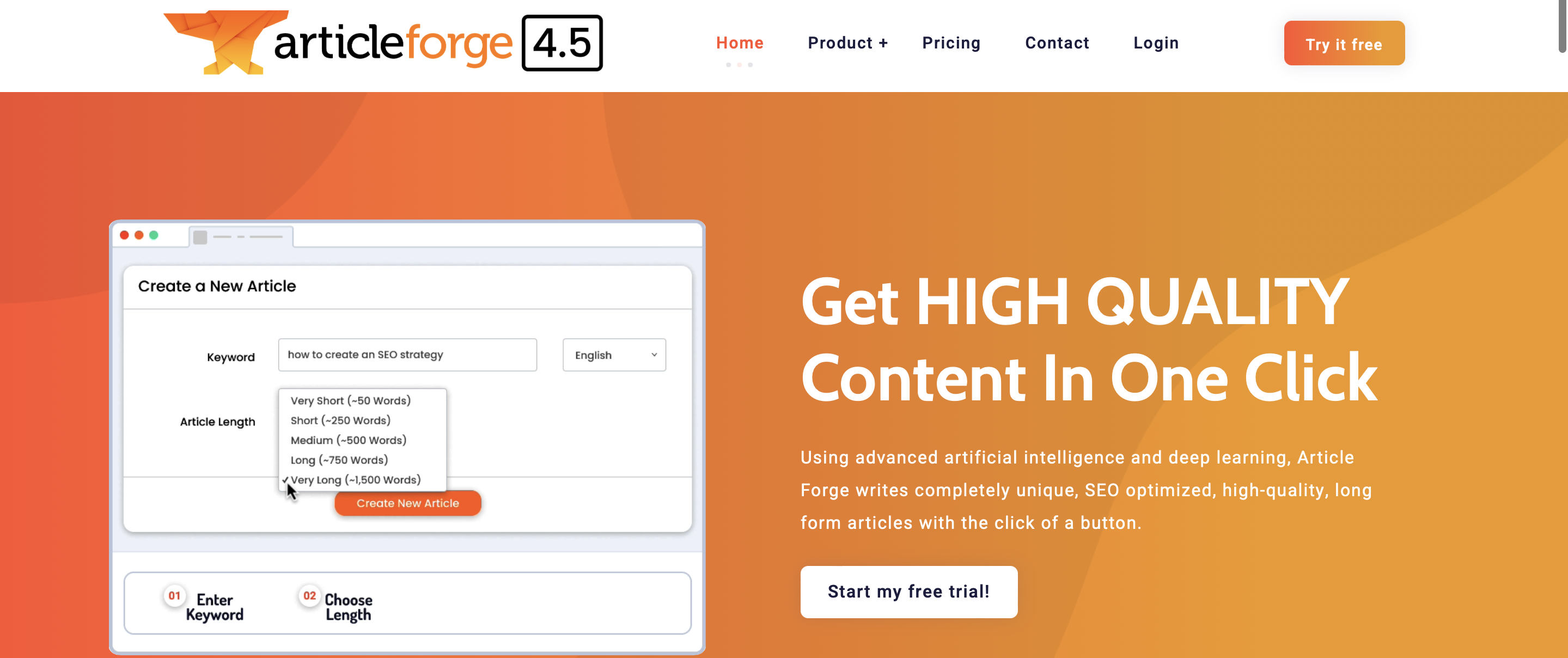 Article Forge is another tool that uses artificial intelligence to write content for your essay or research paper on any topic. This AI text generator uses machine learning algorithms to write original text. It also allows you to add videos and images to your texts, which could be helpful for many people. Also, you can edit your essay with a few simple clicks.
This AI essay writer can quickly outline, research, and generate long essays. It also has a bulk article generator that generates different copies of high-quality essays based on your input.
This tool can create engaging content on many topics. Just enter the keyword or topic you are interested in writing about, along with any headings, subheadings, and word count. The tool will then automatically search through millions of pieces of related content and generate a sample based on your choices.
It also places a strong emphasis on generating SEO-friendly content. Since your goal is to write college essays or other similar content, you might find it useless. It might still use some improvements, though.
This platform offers a five-day free trial, but you must first provide your credit card information. If you don't formally cancel, you will be charged when the trial period has ended. You can use Article Forge to write up to 25,000 words for $27 each month. The charge for 250,000 words is $57 per month. Lastly, an unlimited plan is available for $117.
Advantages✔️
Disadvantages❌
It is not only for creating articles and essays but also for SEO.
External links, photos, videos, and other content can be added to the articles.
There is a trial option.
Generates sometimes irrelevant stuff for the topic.
The content sometimes fails plagiarism checks.
6. Chat GPT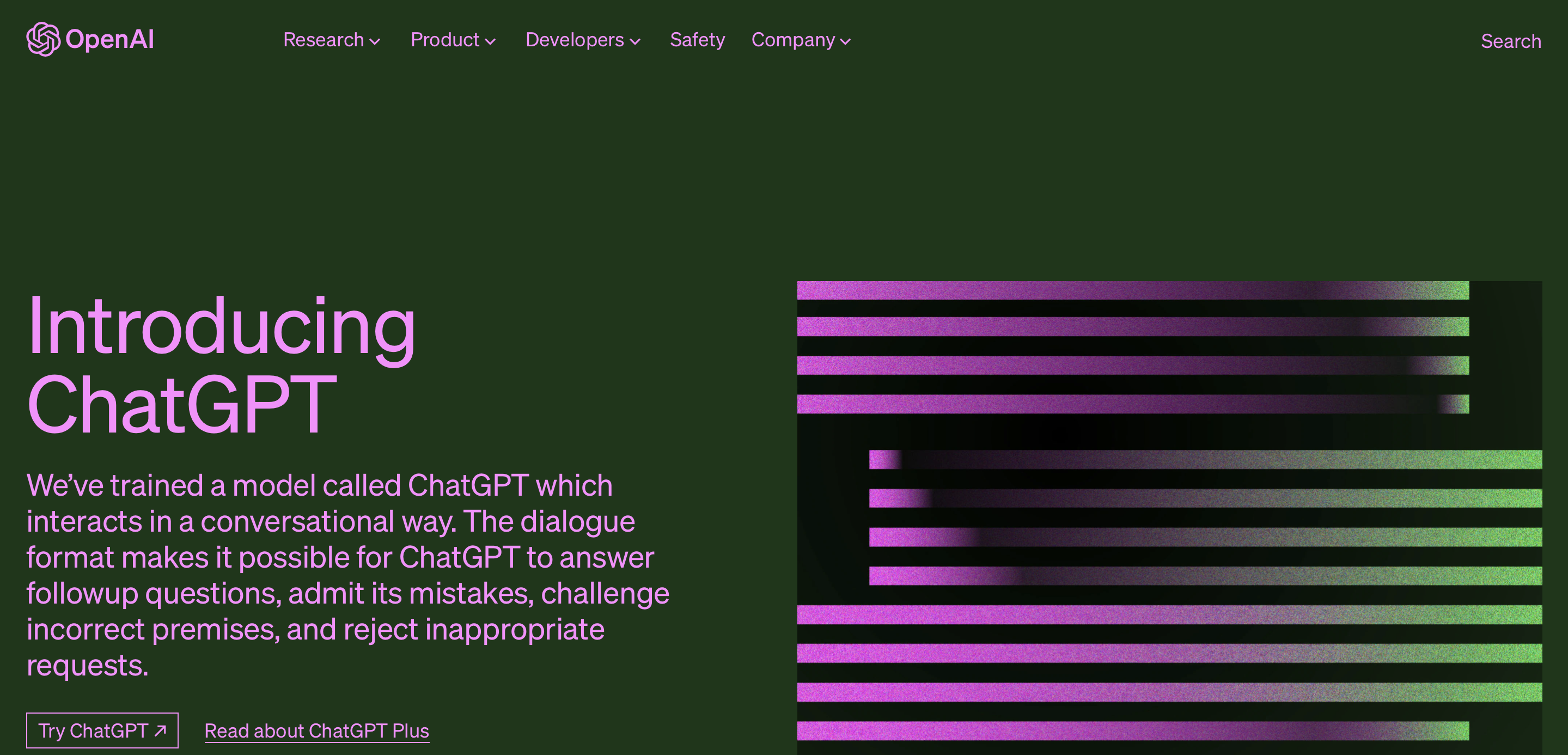 In contrast to other AI writing tools, this is an open-source program with many features, including text prediction, dialogue flow control, and natural language generation.
Although it has more trendy features, it is still just the newest AI tool on the market. It is basically a chat with an AI engine.
This tool can generate text, including essays, based on user input. Depending on the prompt and the comprehension of the task, the quality of the essay generated by ChatGPT can vary a lot. It can sometimes give responses that are grammatically or logically incorrect.
Yet, this does not mean that the tool only writes poor-quality essays. ChatGPT can generate informative and well-written essays, given the right direction and carefully crafted prompts.
The fact that this tool saves time compared to writing an essay on your own is one of the main advantages of using it. With its big knowledge base, the tool can quickly generate drafts of articles in a short amount of time.
Without question, Chat GPT is a good tool, but it isn't the best for writing essays. Nonetheless, it can make writing easier. Although this AI can produce grammatically correct material, it may lack imagination and critical thinking skills.
You may find it difficult to generate truly interesting or innovative content. Regarding the pricing structure, the platform offers a free version with an average response time. The premium version includes unlimited functionality and costs $20 per month.
Advantages✔️
Disadvantages❌
Open-source tool.
You can use it to develop good conversational applications.
Has less powerful features than other well-known AI tools.
Limited availability of languages besides English.
FAQ
How does AI-generated content work?
Artificial intelligence tools can use google searches on different keywords and topics to generate original content by pulling pre-existing data from search engines. The tools then use that as the foundation for producing content.
Often users must choose a text format, a topic, and keywords to create content. The AI then conducts an online search and generates content that follows the specified format.
This includes essays, blogs, articles, product descriptions, and whatever written content AI can process.Students who use AI-generated content don't have to stress about burning out or falling behind since it can generate many ideas from a single input.
At such services, any student can order an academic paper of any topic and complexity. As a result, they get high-quality and unique research papers. Any type of assignment will be completed following the deadline and stated requirements. Such services allow you to save your time, nerves, and energy for other scientific endeavors.
What is the most advanced AI text generator?
Clearly, PaperTyper is the top runner in this competition. You can write and edit amazing essays using all of its tools. Also, remember that you can use this platform for other paper types. In addition, you can use the helpful suggestions from Grammar Checker to make sure your writing is top-notch. Writing long-form papers is now easier than ever, thanks to the new version of this AI-powered tool.
This AI essay writer uses advanced algorithms that can generate original and grammatically accurate essays and other papers for you on a wide range of complex topics. It can be difficult for any student to submit high-quality papers on time. Use this best AI writing helper to lighten your workload when writing essays.
Is there a free AI text generator?
Yes, there is. While most AI text generators have monthly and yearly pricing plans, some of them offer free trial plans. PaperTyper AI generator offers you the last option. It is a solid AI helper that helps the user write original, plagiarism-free essays and articles for a reasonable price for any student. You only need to give the tool a few keywords as a prompt, and it will quickly generate content for you.
This AI-powered tool will generate a sample essay for you to review, edit or use simply the passages you liked. Students of all academic levels can use this simple AI text generator to generate essays and articles. It is also helpful for copywriting, marketing, writing paragraphs, emails, lists, and more. Software and programming knowledge aren't necessary.
Which AI is best for essay writing?
The tools mentioned above are all great AI text generators that can help students with essay writing. These AI writing tools can help you write faster and better. Take some time to read more about the services and their features because each of these tools has something unique to offer.
These essay helper tools can be used to write and come up with ideas for all types of academic writing assignments, including essays and research papers. The tools use cutting-edge AI technology, which makes it quick and simple to generate original content for academic writing.
The best platform we reviewed, PaperTyper, includes both an essay editor and an AI generator. With this service, you can manage all steps of the essay writing process in one place.
Tips on how to use an AI generator
There are a few tips that can assist you in writing strong essays if you intend to use AI essay generators.
Choose your topic wisely: The quality of the essay produced by AI technology depends on the quality of the dataset. Choose a topic that has been thoroughly researched and has a lot of online resources.
Give clear directions: It is essential that you provide specific instructions before generating a sample. The topic, the format, the tone and style, and any particular keywords you want to use are all included in this.
Edit and proofread: Although AI essay-generating technology can quickly produce high-quality texts, it is still important to edit and proofread the essay to guarantee that it satisfies your expectations. The best option here is to use generated the essay as a sample.
Is it illegal to use AI to write an essay?
It is important to understand that academic institutions do not always welcome using AI technologies to generate your essay. But there are no legal restrictions against doing so. That is why we always remind our users that it is better to use generated material only as a sample for your future paper. This way, you will not only shorten your writing time but also have inspiration and the possibility to learn how to write proper papers.
Never steal someone else's ideas or pass them off as your own; always cite your sources or at least edit the samples you get. When it comes to plagiarism, it is better to be safe than sorry.